Hiroya Kurata was born in Osaka Japan, and grew upin Tokyo and Chicago.
His artwork is inspired by various things including thegreek myths, baseball cards, and Bikuri-Man stickers.He is a member of a Japanese manga group,
Mashcomix
.
He is currently living and working in Brooklyn, NYC.
I met Hiro 2 years ago, during the summer 2005 at the opening of the
Dolce Vita # 2
organised by Carla Communication at
Espace Beaurepaire
in Paris. It was a big show with different artists as painter, sculptor, designer, couturier, musicians & performers, video & fashion alsoHiro introduced some sculpturs and canvas at this show. To be honest, I already admire his talent and his unique way of drawing at the first second I saw his works…It reminds me works of
Os Gemeos
, the two brazilian graffiti artists brothers. So i started to talk with him about this, and he knew works of those freaks...Who don't ??
Anyway, we talked a lot about Arts, our influences and differences between him; who considerate Art as an entire work and me; who just drawing for my pleasure or as a therapy...
He's involve into a lot of different projects with graffiti artists, designer and worked already for different galleries in
Tokyo
,
Berlin
, Paris and NYC where he's actually living.
I just saw he's gonna work with that great crew
The Brooklyn Circus
, check the blog.
The link to this great show he did in Tokyo last year as well
2006 at BBS Tokyo, the 10x10 Show
.
Some of my favorites works of Hiro
A Bull and A Violin Man
Zen Meditation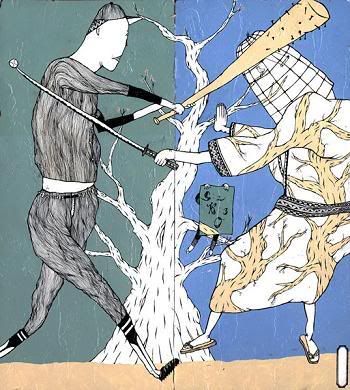 Greek Myth!!!! I'm proud to be your Friend !!!!
See you soon.....
All works are properties of Hiroya Kurata.2006 hiroya kurata
shiloku@gmail.com