mardi 28 août 2007
Publié par

So What ?Di Khrap
à 07:42
Aucun commentaire:

27.08.2007
[THN097] Das Kraftfuttermischwerk - Blüte Seines Lebens
(Moving Ambient Downbeats)

Now, in this mid-summer of 2007, Das Kraftfuttermischwerk
returns with a soothing, melodic downtempo EP titled
"Blüte seines Lebens" - a perfect audio complement to warm,
placid days. Like a carefree boat trip down a meandering,
gently flowing waterway on a balmy summer day that ends in 
the cool shade of a secluded tree-lined beach, this
easy-listening four-tracker takes the listener on a tranquil,
nostalgic sound journey that includes beautiful synths,
pensive melodies, delicate beats, and minimal grooves.

(4 tracks - 23min 10sec - 32.62 MB)

-----------------------------------------------------------


14.08.2007
[APL047] Twile - Traum-a
(Cinematic Dub Electronica)

The album title was selected for its dual meaning -
"Traum" is the German word for "dream" while
"trauma" refers to emotional injury or suffering as
a result of experiencing an extremely stressful situation 
or physical injury. The sounds are cinematic, designed to
be listened to in seclusion, and the album as a whole is a
manifestation of Twile's belief that "what is contained in
sadness holds the greatest potential for joy."
So Twile, as if assuming the role of a therapist,
summons the misplaced world of dreams, childhood,
and forest to offer a "sonorous cure."

(4 tracks - 31min 56sec - 44.99 MB)


Coming Soon


[THN098] krill.minima - Urlaub auf Balkonien




[THN099] Selffish




[APL048] Weigl & Hoffmann - Examples Of A Medusa


[APL049] Off The Sky - Cumulae Movement


... enjoy the music and consider DONATING a token to
the artists, thinner orscene.org to support free music!

All of works are free to download and use under the
terms of a Creative Common License.


Publié par

So What ?Di Khrap
à 07:07
Aucun commentaire:

Hiroya Kurata was born in Osaka Japan, and grew upin Tokyo and Chicago.
His artwork is inspired by various things including thegreek myths, baseball cards, and Bikuri-Man stickers.He is a member of a Japanese manga group,
Mashcomix
.
He is currently living and working in Brooklyn, NYC.
I met Hiro 2 years ago, during the summer 2005 at the opening of the
Dolce Vita # 2
organised by Carla Communication at
Espace Beaurepaire
in Paris. It was a big show with different artists as painter, sculptor, designer, couturier, musicians & performers, video & fashion alsoHiro introduced some sculpturs and canvas at this show. To be honest, I already admire his talent and his unique way of drawing at the first second I saw his works…It reminds me works of
Os Gemeos
, the two brazilian graffiti artists brothers. So i started to talk with him about this, and he knew works of those freaks...Who don't ??
Anyway, we talked a lot about Arts, our influences and differences between him; who considerate Art as an entire work and me; who just drawing for my pleasure or as a therapy...
He's involve into a lot of different projects with graffiti artists, designer and worked already for different galleries in
Tokyo
,
Berlin
, Paris and NYC where he's actually living.
I just saw he's gonna work with that great crew
The Brooklyn Circus
, check the blog.
The link to this great show he did in Tokyo last year as well
2006 at BBS Tokyo, the 10x10 Show
.
Some of my favorites works of Hiro
A Bull and A Violin Man
Zen Meditation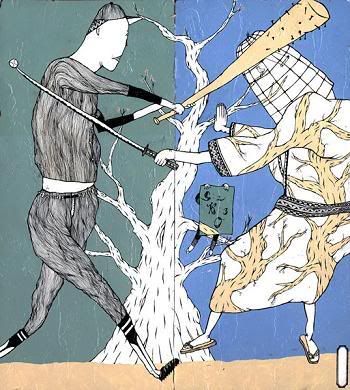 Greek Myth!!!! I'm proud to be your Friend !!!!
See you soon.....
All works are properties of Hiroya Kurata.2006 hiroya kurata
shiloku@gmail.com
Publié par

So What ?Di Khrap
à 02:56
Aucun commentaire:

lundi 27 août 2007
Chacun son cinéma ou Ce petit coup au coeur quand la lumière s'éteint et que le film commence
( To each his own Cinema) , [2007-129minutes]
A collective film of 33 shorts directed by different directors about their feeling about Cinema
Directed by
:
Theo Angelopoulos (
THREE MINUTES)
Olivier Assayas (
UPSURGE)
Bille August (
THE LAST DATING SHOW)
Jane Campion (
THE LADY BUG)

Youssef Chahine (
47 years later)

Chen Kaige (
ZHANXIOU VILLAGE)
Michael Cimino (
NO TRANSLATION NEEDED)
Joel & Ethan Coen,
David Cronenberg (
AT THE SUICIDE OF THE LAST JEW IN THE WORLD IN THE LAST CINEMA IN THE WORLD)
Jean-Pierre & Luc Dardenne (
DARKNESS)
Manoel De Oliveira (
SOLE MEETING)
Raymond Depardon (
OPEN-AIR CINEMA)
Atom Egoyan (
ARTAUD DOUBLE BILL)
Amos Gitai (
THE DYBBUK OF HAIFA)

Hou Hsiao Hsien (
THE ELECTRIC PRINCESS HOUSE)
Alejandro González Inárritu (
ANNA)
Aki Kaurismäki (
THE FOUNDARY)
Abbas Kiarostami (
WHERE IS MY ROMEO ?)
Takeshi Kitano (
ONE FINE DAY)
Andrei Konchalovsky (
IN THE DARK)
Claude Lelouch (
THE CINEMA AROUND THE CORNER)
Ken Loach (
HAPPY ENDING)
Nanni Moretti (
DIARY OF A SPECTATOR)
Roman Polanski (
CINEMA EROTIQUE)
Raul Ruiz (
THE GIFT)

Walter Salles (
5.557 MILES FROM CANNES)
Elia Suleiman (
IRTEBAK)
Tsai Ming Liang (
IT'S A DREAM)

Gus Van Sant (
FIRST KISS)
Lars Von Trier (
OCCUPATIONS)
Wim Wenders (
WAR IN PEACE)
Wong Kar Wai (
I TRAVELLED 9000 KM TO GIVE IT TO YOU)
Zhang Yimou (
MOVIE NIGHT)
Not on the DVD are a second Walter Salles short, Joel and Ethan Coen's WORLD CINEMA and David Lynch's ABSURDA, all delivered to late to be included. That's a shame !!!!!!

Crtitic's coming soon

Publié par

So What ?Di Khrap
à 01:20
Aucun commentaire: